CE approved Euro Standard Advanced Paint Bake Oven
Booth Body:EPS or Rock wool panel
Wall panel
:sandwich style,thickness 50mm,polystyrene or cock wool available as required .
Panels are tongue and groove connected .Roof panel is galvanized metal sheets,hot-isolated panel as optional .
Door
:new style is without aluminum side,reinforcement inside,while old style is with aluminum side.
Personnel door with pressure lock automatically opens when inside pressure exceeds.
There is auto-return device on top of personnel door of some models .
Basement is made of steel ,galvanized ,easy assembled .
2rows of grids and 3rows of vein boards, or full grids,good bearing ,antisepsis and reliable .
Ramp
:2pcs or full vein boards.
Intake and exhaust Cabin
Centrifugal fan,big vane and motor separated ,avoiding accidents resulting from short circuit .Centrifugal fan produces great air flow ,is easy to clean dust on vane,and is up to CE standard. In take fan is a must for all models ,while exhaust fan is collocated for some models.
European flange style ducts.Exhaust ducts are must for all models while intake ducts are collocated for some models.Manual or electrical damper to adjust air flow .
Spraying-baking transform damper ,air controlled .
Intake and exhaust ducts are separated ,avoiding interaction
Cleaning system
Twice filtration:the first one is at inlet,filtering dust above 15um,the second one is at the bottom of roof air chamber .multi-layers, good seal ,filtering dust above 5um ,up to 98% filtration rate. Four sides of filters are hided in the support trough ,assuring good seal .
Heating
: Diesel burner ,fired after flame,reliable and completely burnt.
Heating exchanger ,made of stainless steel, large exchange area ,and high efficiency.
Lighting
:Top lights:45
°
assembled,tubes are different according to different models.
Sides lights:differ according to different models,700-1000Lux lighting.
Control board
: Control box :high quality components ,overload ,overheat ,phase-lacking protection.Heat sensor at
inlet works when heat exceeds .The whole operation can be done after spraying/baking is preset once.
SCM as optional as required .
Anti-fire
: anti-fire device installed between cabin and generator as optional as required .
Anti-fire door closes when too much smoke or flame occurs,avoiding flame into cabin
Water paint device
:Water paint device as optional .Two rows or three rows of nozzles installed on each side of top 45
°
,
Or 2 extra nozzles device at the rear corners Traditional booths can be changed into water paint boos
in this way.
Enviromental protection system
: 4 types environmental-protection systems as optional .
Water curtain as optional as required.
Outside size

:

7

1

00

x

5

60

0

x

3

61

0 mm

(L

x

W

x

H)

Door size

:

3020

x

2

7

00 mm

( W

x

H)

Inside size

:

70

00

x

40

00

x

2

8

00 mm

(L

x

W

x

H)

Gross power:

7

(

KW

)

Foundation and floor




(galvanized)

Foundation

Full galvanized metal foundation, two rows

of

grids and three rows

of

metal non-slip diamond plates

Surface area of floor filter

10

M²

(area of grids)

Galvanized metal basement

3

5

0mm height, the ventilation effect is better than traditional spray booth

Drive-in ramps

2

big drive-in ramps, each size: 2000x

630

mm

Wall and door




(EPS)

Wallboard and roof panel

Side wall panels adopt high quality double construction fireproof EPS insulation materials, thickness is 50mm,

Roof panels adopt galvanized steel plate bending forming

3-folded entrance door with safety glass window

1set,

size: 3

02

0x2

7

00 mm

(

W

x H), size is bigger than traditional spray booth

Operator's door with safety glass window

8

00x

20

00mm(

W

x H)

Lighting

Ceiling lighting

8units,

each 4 x 36W, total 1152

W

Side lighting

/

Brightness

≥

8

00 LUX

Filtration system

Pre-filters

G2 grade

plate type filter

Ceiling filter

EU5 grade high efficient filter

Bottom filter and exhaust filter

Fibre glass

paint-stop

filter

Ventilation system

Inlet fan

(direct drive motor)

1

x

5.5

KW,

380V,

50HZ,

CE,

Turbo

fan

Outlet fan

(direct drive motor)

/

Total fan capacity

2

0

,000m³/h

Air flow speed in cabin

0.2m/s in empty booth,

0.2

6

-

0.

3

m/s

in loaded booth

Heating system

Heating exchanger

Adopt high efficient heat-resistant stainless steel as cycling heat exchanger

Burner model

Adopt Italy RIELLO

diesel burner

G10

(

1

0

0

,000kcal/H)

Heating time

7

-

9

minutes (from20 to 60º

С

) under baking status, max baking temperature is 80°C

Control board

Control system

Standard direct start control system

Function

Painting, warm painting, baking, lighting, emergency stop switch,

failure indication

, overheat protect
Packing Standard :
Each part all has label number which is easy for installation .
Model of transportation is mainly with container transportation .
The product is modular needs one set 1.5T forklift to be loading & unloading tool .
It only needs 2 operations to finish the unloading .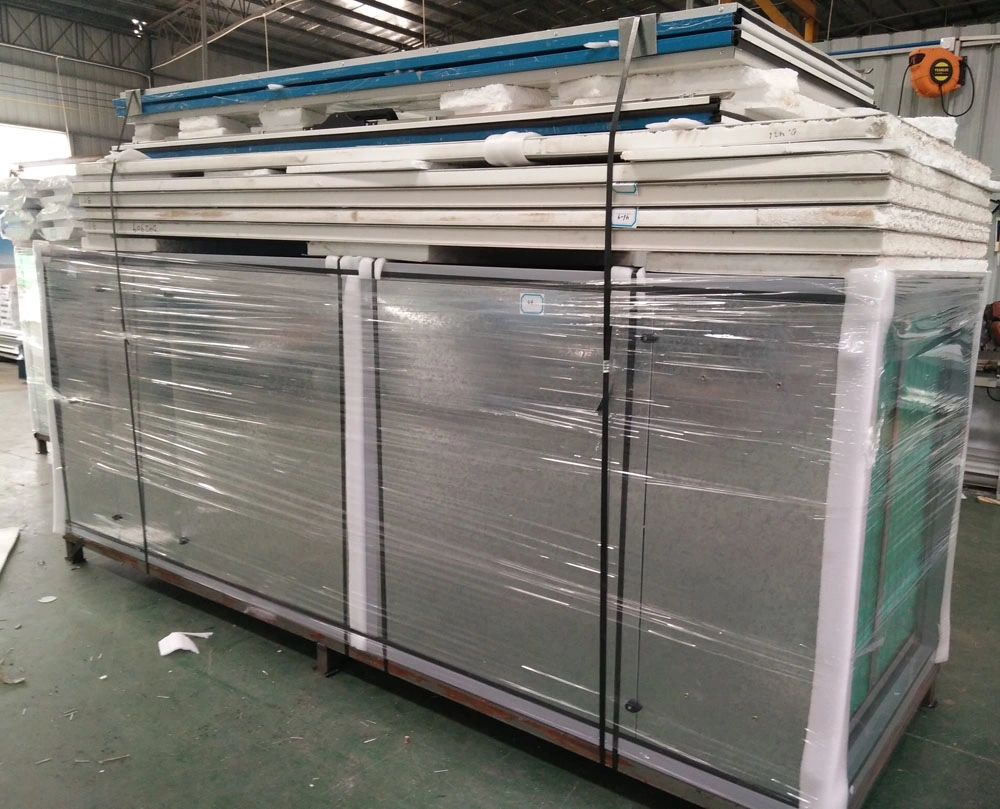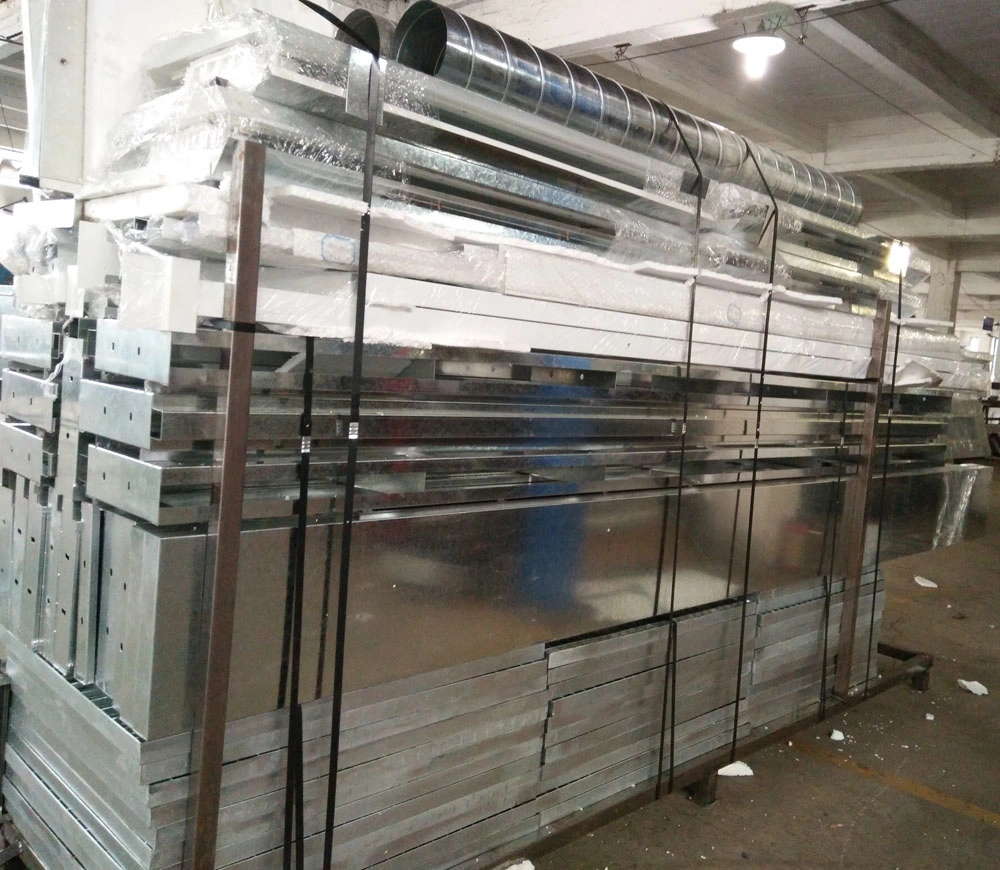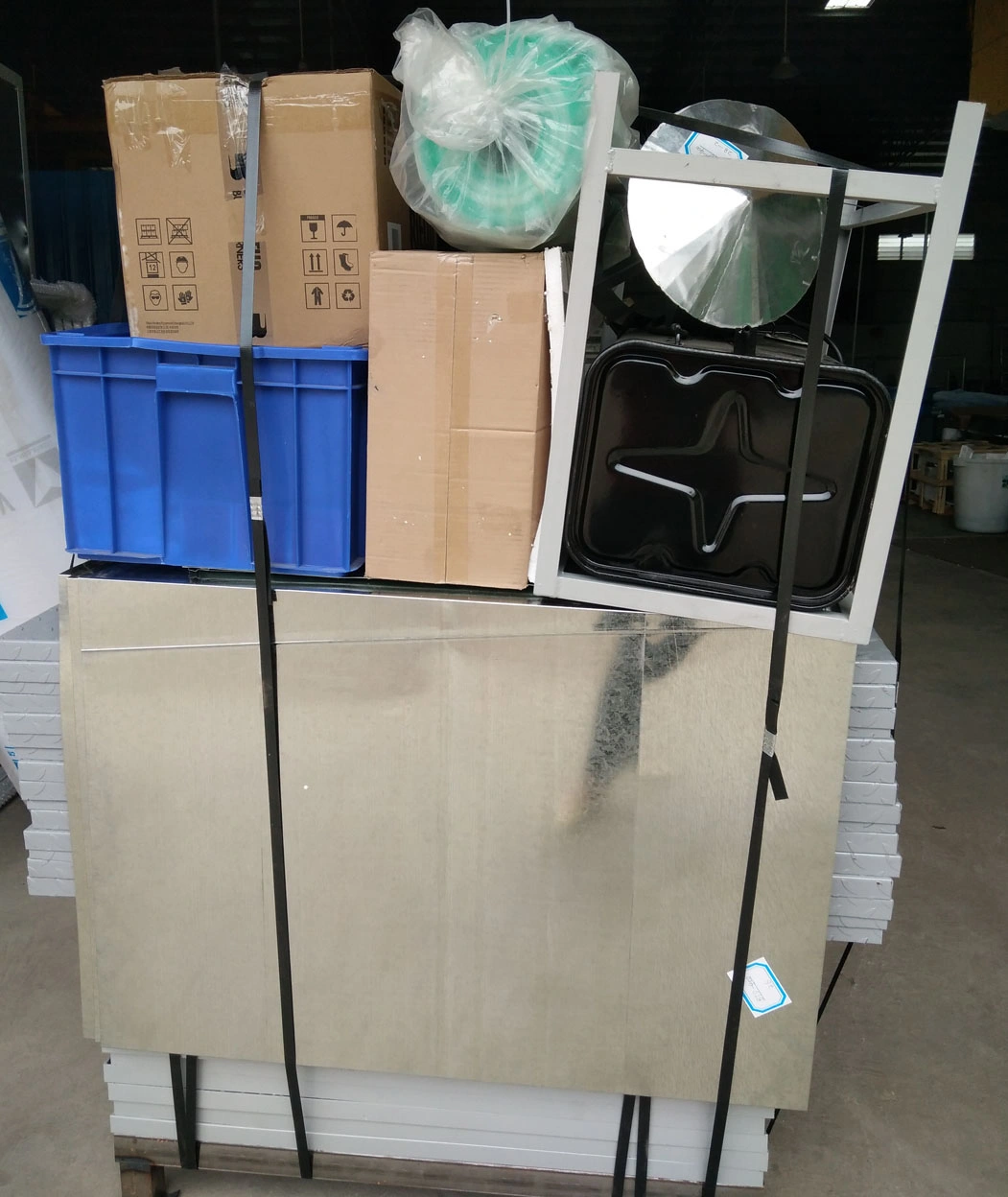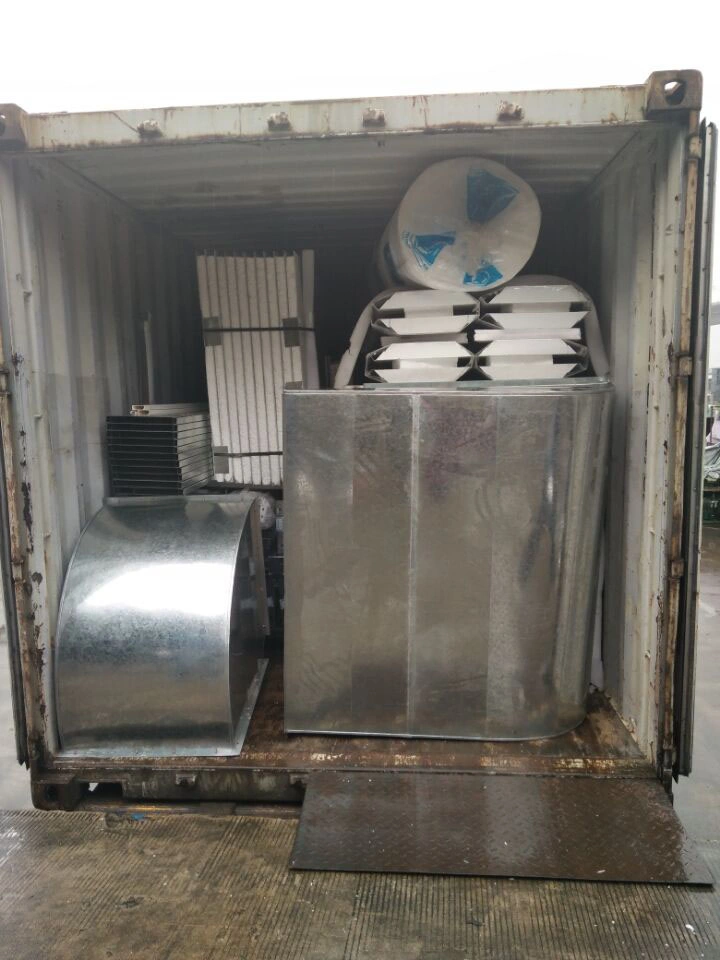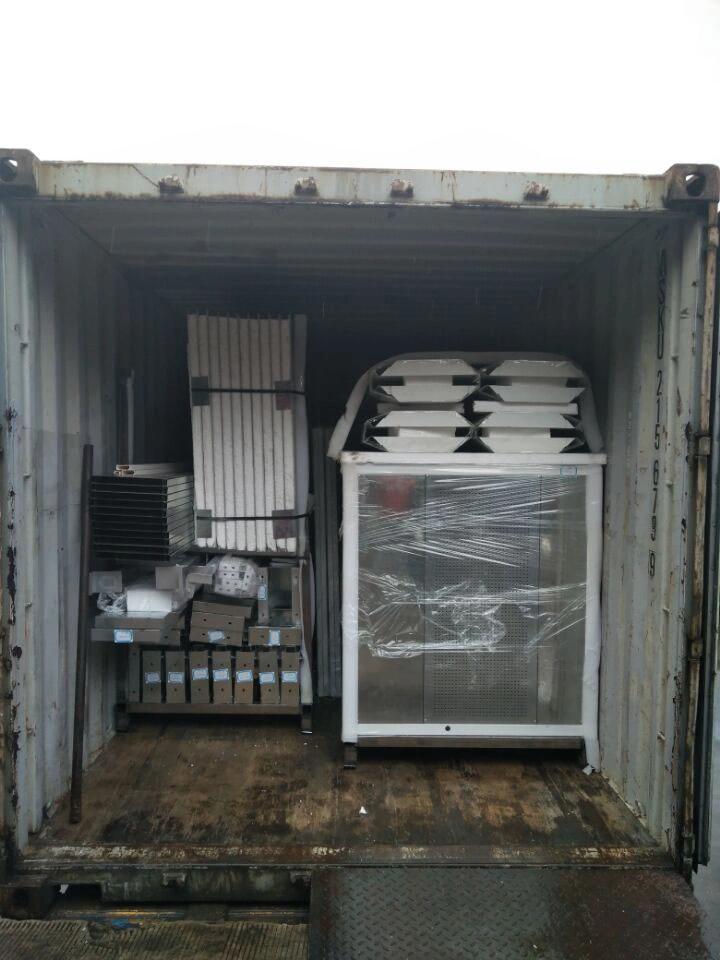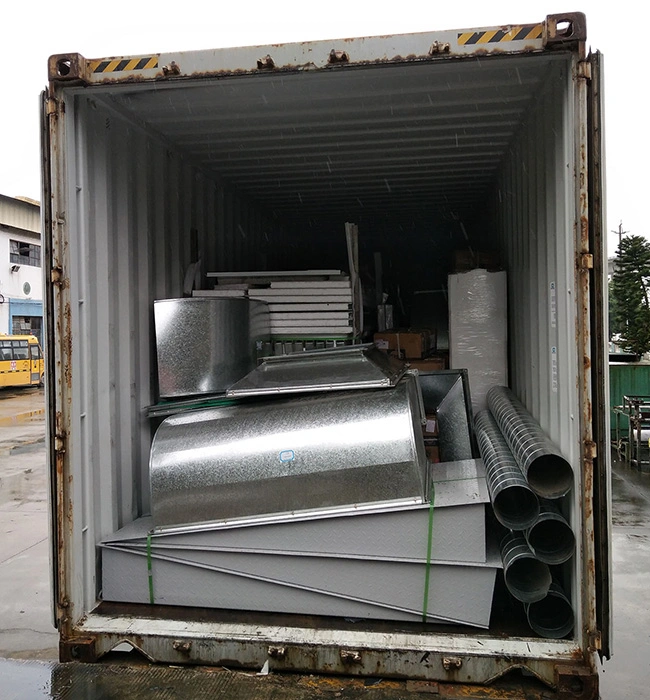 Mengka supplies spraying and drying system as well as complete solution for various requirement in different layout and space. Based on our knowledge and experience in surface coating, just send us the layout of your workshop, we will submit a detailed quotation within 3d drawings and specifications which meet your customized demand.
We can also give you some professional advice or plan if you want to update your painting equipment.