Steam heating jacketed cooking tank (50~600L Cooking Kettle)


1. Cooking kettle capacity 50~600Liter
2. Use steam as heating resource
3. Tiltable, easy to discharge

Jacketed kettle introduction
Jacketed kettle can be designed into different heating type, such as
1. Steam heating jacketed kettle
2. Electric heating jacketed cooking kettle
3. Gas heating jacketed kettle

Steam jacketed kettles are used to cook or concentrate products. Steam enters a jacket that surrounds the bowl-shaped processing chamber, and heat is transferred through the walls of the jacket. "Cooking" kettles are found in many industries, including meat packing, rendering, paper making, sugar processing, and food preparation and processing.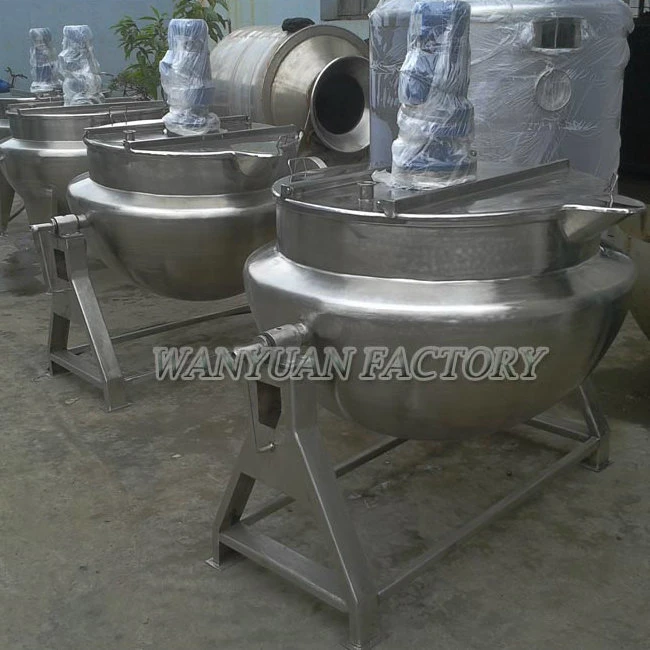 Wenzhou wanyuan food machinery factory- Jacketed kettle
Steam heating jacketed cooking tank (50~600L Cooking Kettle)
Here below is the specification of our steam heating jacketed kettle
Model

GTJ-100

GTJ-200

GTJ-300

GTJ-500

GTJ-600

Volume (L)

100

200

300

500

600

Pot Size (mm)

Φ700×530

Φ800×580

Φ900×630

Φ1100×730

Φ1200×780

Working Pressure(MPa)

≤0.3(jacket)

Working Temperature

≤100 degree C (material in pot)
≤143 degree C(jacket)

Blending Speed (r/min)

35

Steam Inlet(DN)

20

20

20

25

25

Heating Area(m2)

0.7

0.95

1.2

1.8

2.2

Evaporative Power(kg/h)

45

80

100

140

160

Steam Consumption (kg/h)

50

90

112

160

182

Motor Power (KW)

0.37

0.55

0.55

1.1

1.1

Dimension(cm)

115×80×100

135×90×107

145×100×115

165×120×136

176×130×146

Weight(kg)

180

200

220

290

320